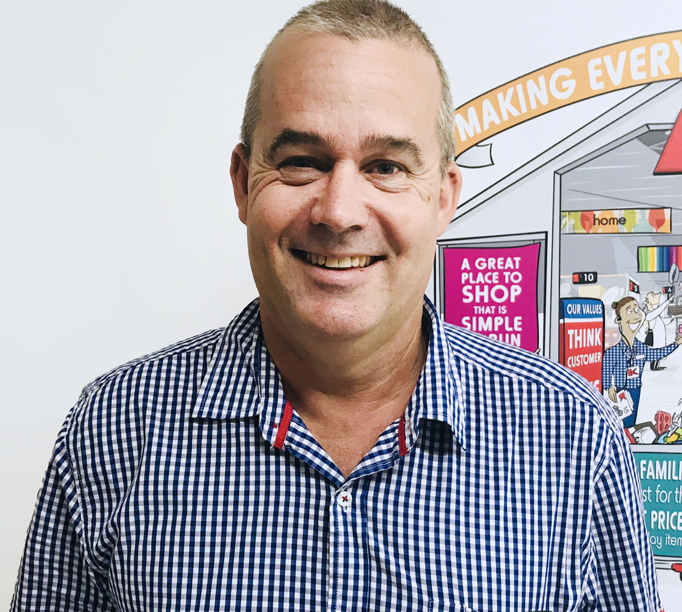 Mark
Tell us a bit about your shop or service:
Department Store – offering families Everyday Lower Prices. Currently in a trans-seasonal time of year with a lot of their stock introducing lines for winter eg clothes, outdoor toys for kids are changing to cater for indoor.
How long have you been working here?
2 ½ Years at Kmart Arana Hills, 18 ½ Years for Kmart, 35 Years for Wesfarmers.
Are you a big or small crew - how many of you working there?
Currently have 181 staff including 3 work experience.
What's do you think is best part of your job?
Co-ordinating so everything runs smoothly in store.
What are your interests in life? Any hobbies, interests or mad obsessions?
Playing AFL and a holiday getaway every 4 weeks whether that being 2/3 days away travelling in my caravan or an overseas holiday.
Do you think your shop or service helps make customers' lives easier? If so, tell us how: Yes – catalogues released are organised to tell a story to customers.
Do you have local customers you know by name, or like to have a chat with? Yes.
What is the funniest or most unusual request you've ever had from a customer?
A customer suggested I put together the furniture they had just bought in exchange for a beer and a meal.
What do you think makes Arana Hills Plaza a great community and/or good place to shop? Quick and convenient.
Name two things you like most about working at the centre?
Convenient and I help neighbouring tenancies by recommending their business to customers (this isn't limited to the centre eg hardware store and pool shop across the road).